PENGUNAUT TRAINER
A PLAYFUL VR APP FOR KIDS TO PREPARE FOR MRI EXAMINATIONS
THE CHALLENGE
Magnetic Resonance Imaging (MRI) is a painless, non-invasive method of taking a look inside the body. Nevertheless, the narrowness of the tube, the loud noises, and the need to lie still are a strain for many people. Especially children often react with fear, stress, and physical restlessness. For this reason, it is common to sedate or anesthetize young patients (i.e., put them to sleep with drugs) to ensure a proper diagnosis, which unfortunately is not without risk.
our Mission
Our mission is to make MRI scans less stressful for children. Our goal is to ensure and improve the well-being of young patients during the examination. For this purpose, we have developed the Pengunaut Trainer ("Pingunauten Trainer" in German) in an interdisciplinary team of German scientists and students, doctors, and medical staff as well as representatives from the creative industry.
Support Us
We want every child who faces the challenges of an MRI exam to have the opportunity to prepare for it with Pengunaut Trainer. That's why our app is free and open to everyone. After the initial funding by the European Union and the German state of North Rhine-Westphalia, we now have to cover all the project's costs, especially those related to development and maintenance, with donations.
If you would like to support us in our work, please see the following page for more information on how you can help us with a donation.
The App
The Pengunaut Trainer is a Virtual Reality (VR) app for smartphones that prepares children for MRI examinations in a playful way. Step by step and with mini-games, children explore a true-to-original examination room. While experiencing a virtual MRI scan, the players practice lying still during the examination. They are accompanied by the Pengunauts Bella and Benny Beak.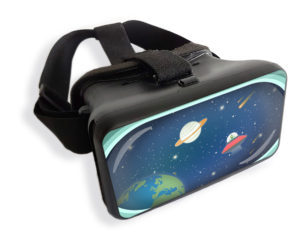 VR VIEWER
To experience Virtual Reality on your Smartphone, you need a special mount. The Smartphone is securely clamped in the front and can then be used like real VR glasses. Our app works on every VR-ready Smartphone and with every VR viewer!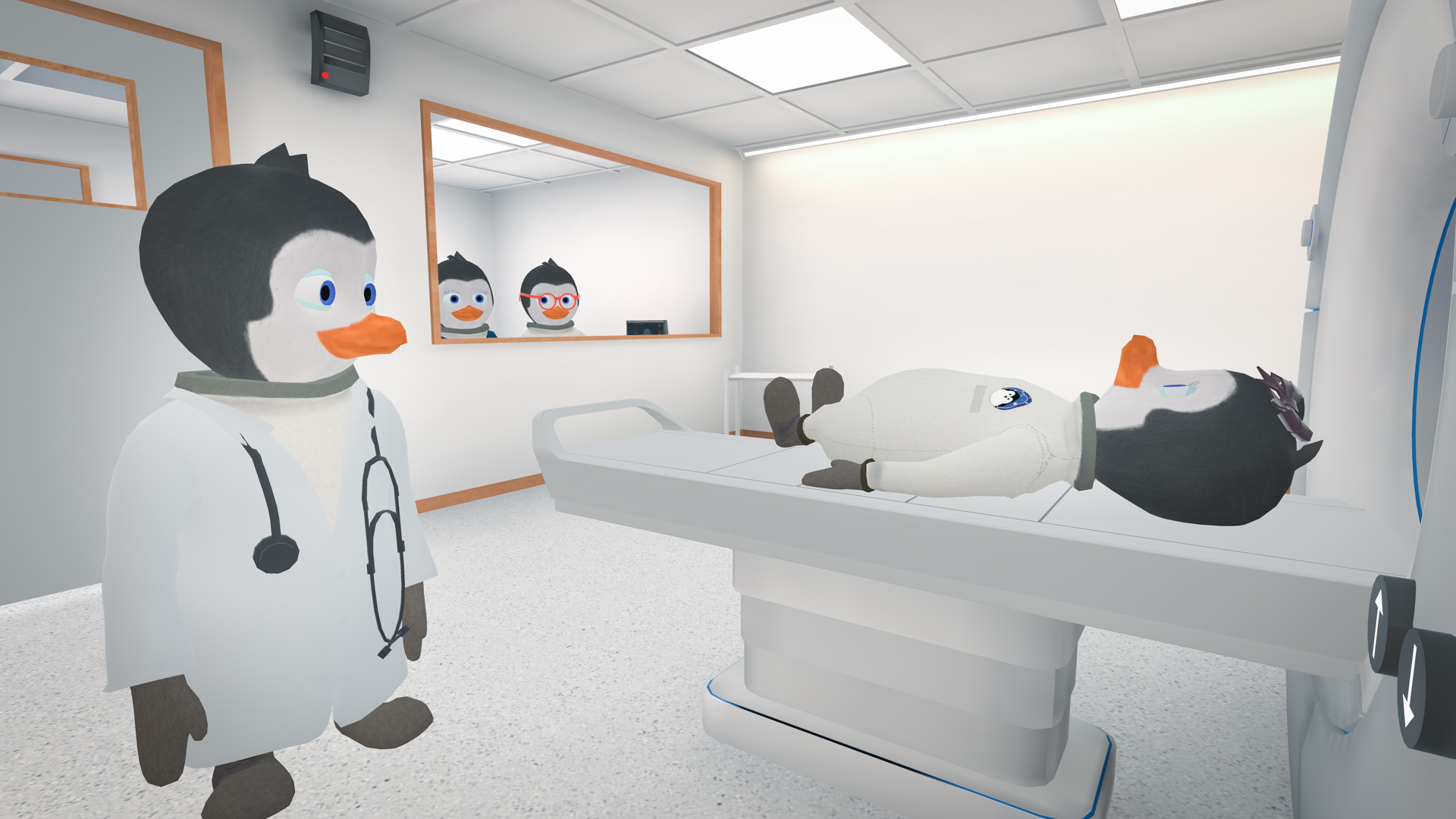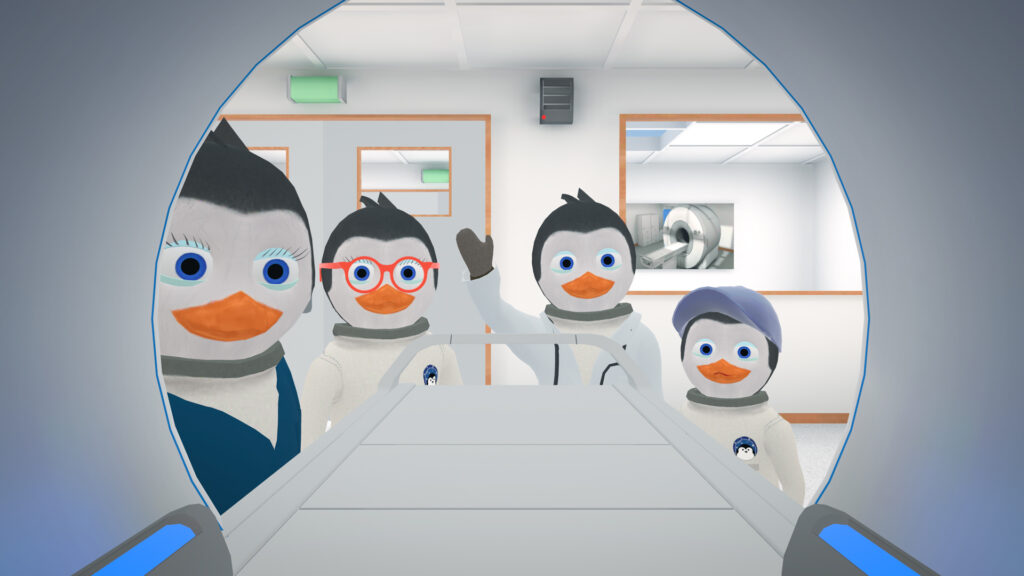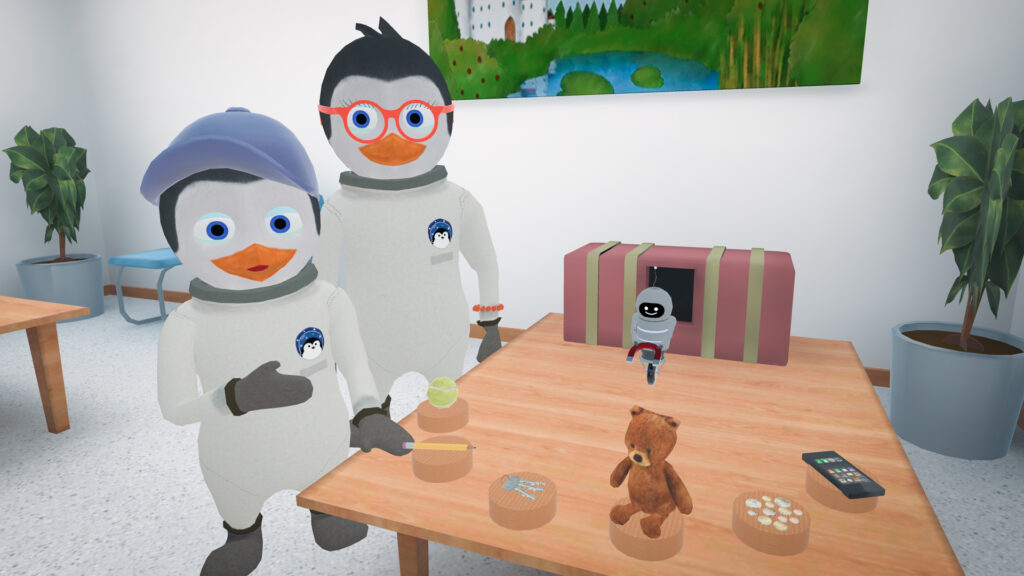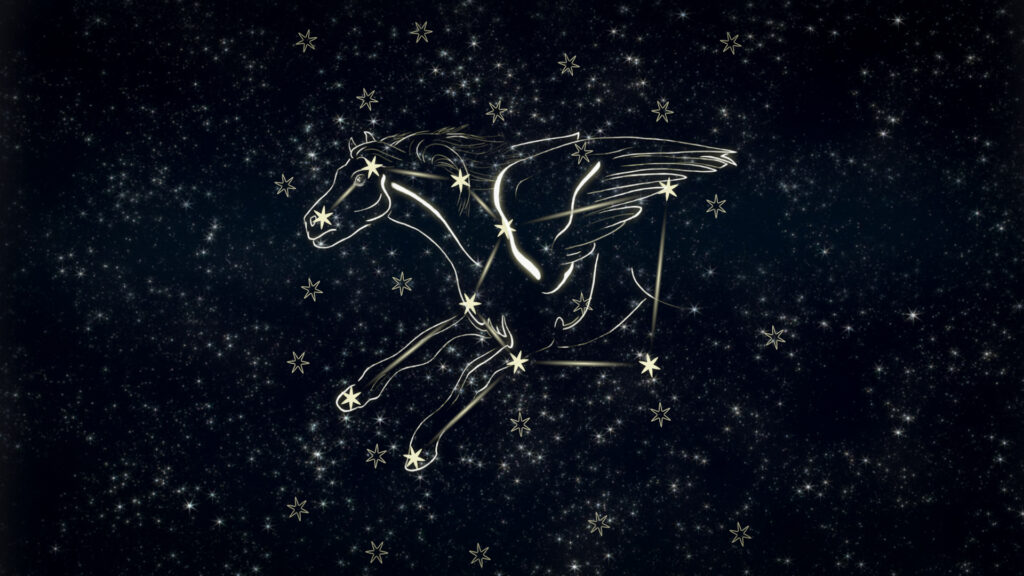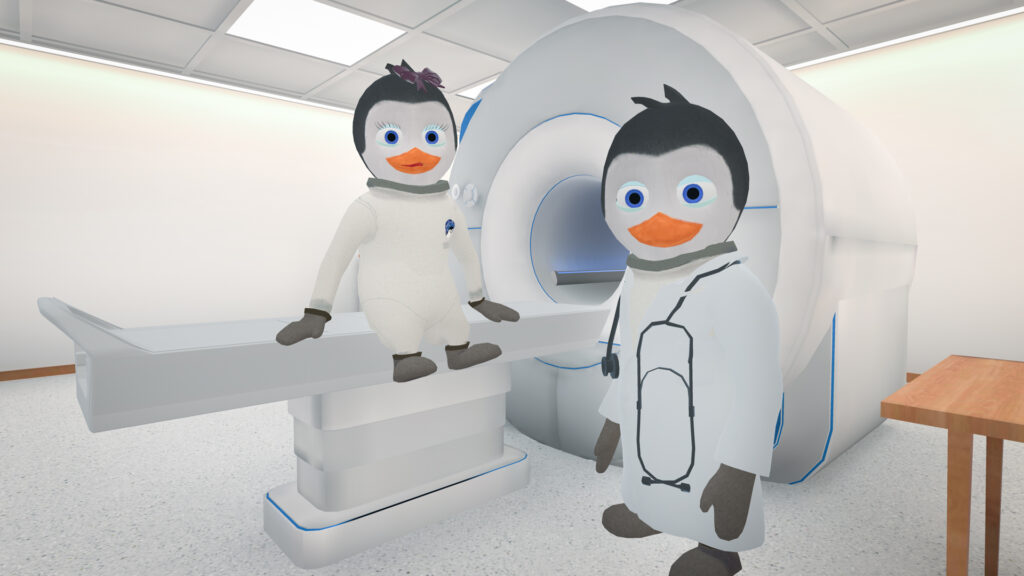 be Brave!
At the beginning of the Pengunaut Training, each child can choose its own courage formula. They can make it their motto and repeat it to themselves if they want to encourage themselves.
Every courage formula is associated with an animal that is also brave and courageous. Also, the courage formula is always connected with the natural habitat of the animal.
Kids can use the courage formula beyond the training, too! They may recite their formula during the MRI scan, to cheer-up themself.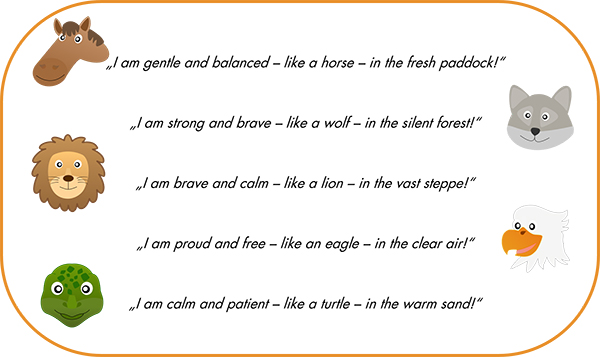 THE PROJECT
The Pengunaut Trainer is the result of a joint interdisciplinary work of scientists and students of the University of Duisburg-Essen (Germany), medical professionals, psychologists, and radiology experts of the University Hospital Essen (Germany) as well as representatives from the entertainment industry and medical technology.
This is a non-profit, non-commercial project for the improvement of health care for children. We are part of the project "VR-RLX – Integrated Virtual Reality System for the Reduction of Anxiety and Sedation in Pediatric Radiology" ("VR-RLX – Integriertes Virtual Reality-System zur Reduktion von Angst und Sedativa in der pädiatrischen Radiologie"). VR-RLX is funded by the State of North Rhine-Westphalia and the European Regional Development Fund (ERDF).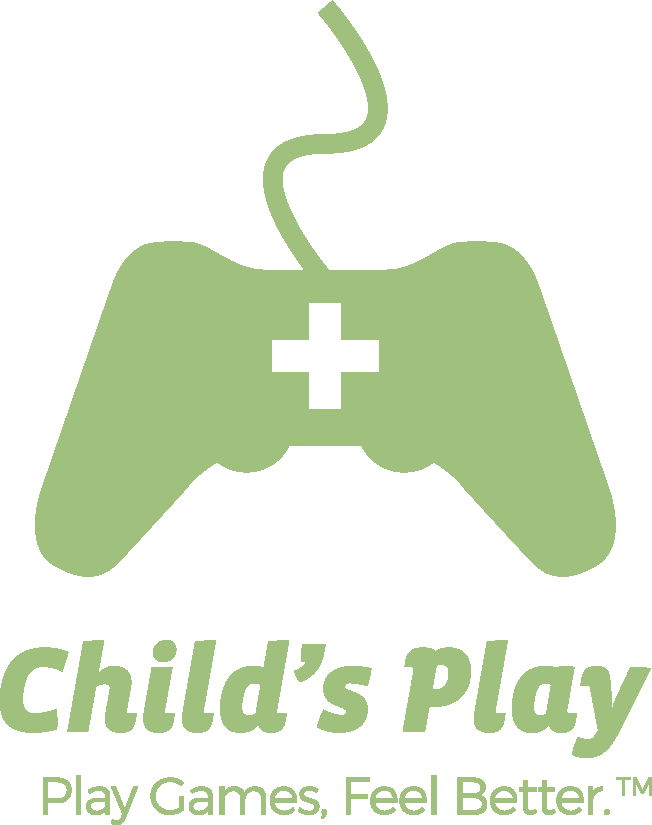 The Study
A first prototype study has already provided indications of the effectiveness of our approach (Liszio & Masuch, 2017). An extensive study examining the effect of the app over a longer period started in October 2018 and has now been completed after almost one year of operation.
In the study, participants received the app and the training kit and were able to train on their own. During the training phase, before and after the MRI examination, emotional experience and impressions of the children were recorded.
Patients of the children's clinic of the University Hospital Essen and the children's clinic Amsterdamer Straße in Cologne participated in the study.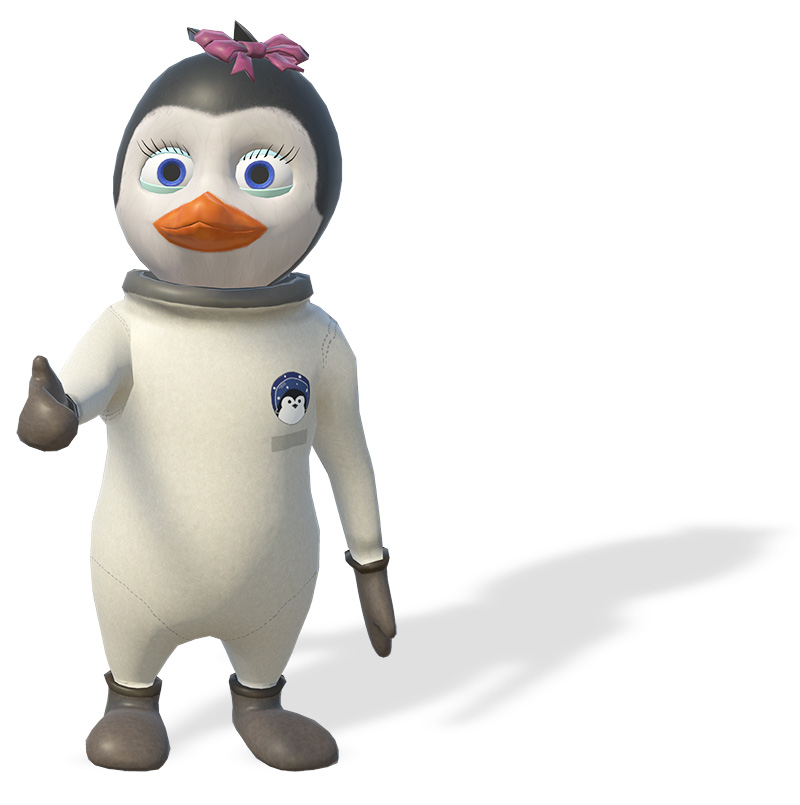 publications
We would like to share our findings and knowledge from the development and usage of our app with all interested parties. As part of our research, we have published several articles documenting our work and results. These articles were subject to a scientific peer-review process and can be downloaded below for free.
Stefan Liszio and Maic Masuch. 2017. "Virtual Reality MRI: Playful Reduction of Children's Anxiety in MRI Exams". In Proceedings of the 2017 Conference on Interaction Design and Children (IDC '17). Association for Computing Machinery, New York, NY, USA, 127–136. DOI:https://doi.org/10.1145/3078072.3079713
Open Access via Researchgate
Stefan Liszio, Linda Graf, Oliver Basu, and Maic Masuch. 2020. "Pengunaut Trainer: A Playful VR App To Prepare Children for MRI Examinations – In-depth Game Design Analysis". In: Proceedings of the Interaction Design and Children Conference (IDC '20), London, United Kingdom, June 21-24, pp. 470–482.
DOI: 10.1145/3392063.3394432
Open Access via ResearchGate



Game manual
If you need help with the controls or the gameplay of the app, you can download a game manual as PDF.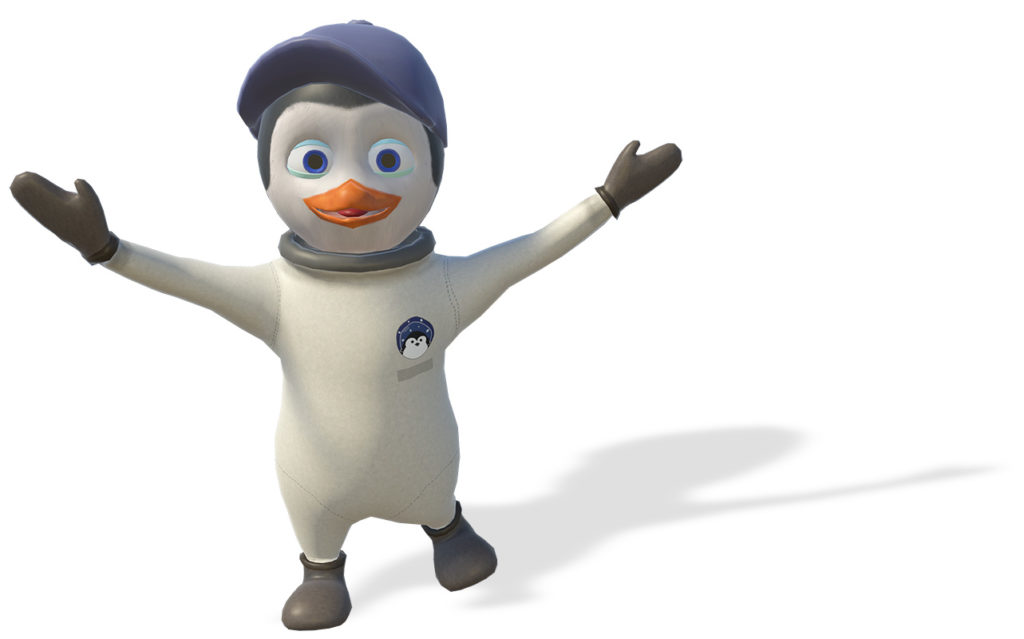 Who we are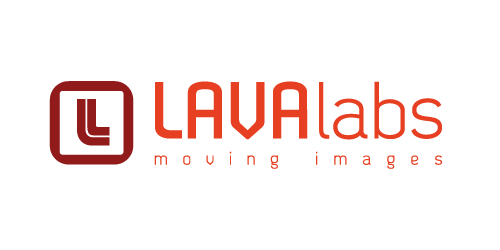 FURTHER CONTRIBUTORS
Radiological Consulting
Dr. Bernd Schweiger
(Institute of Diagnostic and Interventional Radiology and Neuroradiology, University Hospital Essen)
Study Conduct Cologne
Dr. Martin Stenzel
(Head of pediatric radiology, Kinderkrankenhaus Amsterdamer Straße)
Development of the Courage Formulas
Maja Begemann-Frank
(Psychologist, University Hospital Essen Clinic for Pediatrics III)
Music and Sound Design
Matthias Quaß
Dialogue Direction and Voice Recording
Participating Students
Linda Graf
Marius Kindel
Martin Krautwald
Christopher Kremzow-Tennie
Kai Marten
Dennis Pohl
Matthias Quaß
Ida Schaffeld
Alexandra Schroeder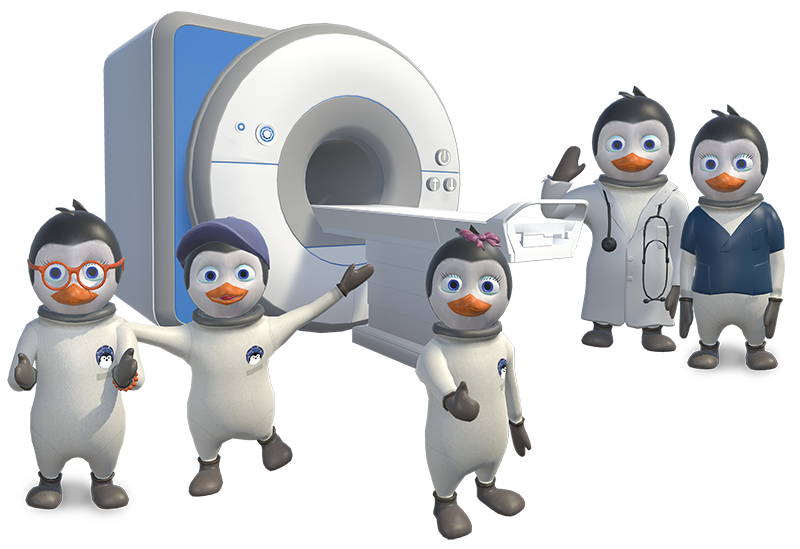 Voice Actors
Englisch
Benny Beak – Edwyn Tiong
Bella Beak – Jessica Maston
MD Theodore Tails – Matthew Curtis
Florence Fin & Off-Voice – Jessical Carroll
Beatrice Beak – Sally Beaumont
Deutsch
Lars & Lotta – Christina Brandenberg
Dr. Frederik Frack – Johannes Walenta
Schwester Franzi & Off-Stimme – Henrike Tönnes
Fr. Schnabel – Eva Berger
Contact
Do you have questions or suggestions about the Pingunauten Trainer? Would you like to support us in our work? Then please contact us!
We are continuously working on our ideas and concepts. We are therefore happy to receive individual experience reports with the app and the training kit. Send us your story in text, picture, or sound and support the project and our research!
Use the following form to contact us.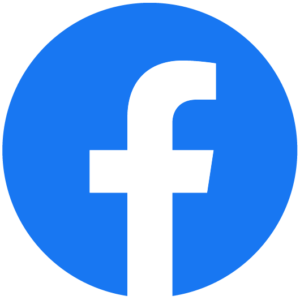 Images:
© LAVAlabs Moving Images GmbH
© Entertainment Computing Group, Universität Duisburg-Essen
Disclaimer and Copyright
The audio-visual contents and documents presented on this site are protected by copyright according to German copyright law – copying / reproducing, editing, distributing, or changing them is only allowed with the written permission of the author (Entertainment Computing Group, University of Duisburg-Essen; LAVAlabs Moving Images GmbH). This does not apply to downloading the application (app) onto your smartphone. The app is intended for private and non-commercial use only. If any content used on this website was not created by one of the project partners, the copyrights of third parties are respected. Using the contact data displayed in our imprint for commercial advertising is prohibited unless we have given our prior written consent or a business relationship already exists.
Google Play und das Google Play-Logo sind Marken von Google LLC.